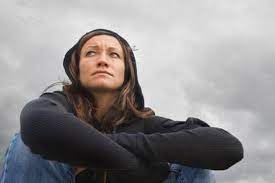 PTSD – you CAN heal with the proper support
Recently on the Today show Karl Stefanovic asked Dr Nick Coatsworth if he was a "bit broken" after discussing his experience with PTSD.

So misguided Karl.
It's these kinds of loose comments that enforce the PTSD stigma that so many people are living with.
Too many people are living with the effects of trauma, but because they weren't in a war zone, or experienced a violent assault, they don't believe they have anything to complain about.
Too many people are now experiencing being re-traumatised after an abusive relationship, which ignites the childhood trauma lying dormant, festering below the surface and has "suddenly" surfaced around midlife.


Mid life crisis? Or PTSD from unresolved trauma?
It's time the stigma was removed and it is time that people started to understand that in this modern world where we are using our noggin in a vastly different way than centuries before, we are evolving to experience chronic issues in the mind…rather than the body breaking down from back-breaking physical work that our ancestors experienced in the preceding centuries.
The link between stress, chronic stress and physical illness is well researched and known – albeit the mechanism and the tipping point of creating illness is not well understood (https://www.ncbi.nlm.nih.gov/pmc/articles/PMC3341916/).
We know that people living with trauma that hasnt been processed or resolved will manifest at some point in the course of someone's life. This will be determined by their personality, coping style or support system. What is important to remember is that the support structure around a person is integral in helping them to seek and enter support with professionals. If you notice a loved one is not doing ok, or if they are saying things that you find concerning, or if their behaviour changes markedly, then help them to get help. GP, psych, counsellor – are all good places to start. Help them to know that asking for help is the strongest place to be, and that you are there for them. Don't try to fix them yourself – that's not your job. Your job is to be there for them, check on them, and motivate them to get help for themselves. That's all.


Research shows that a substantial number of people identified with PTSD recover within 24mths https://pubmed.ncbi.nlm.nih.gov/28720167/
There is a high prevalence of those who suffer from PTSD will develop alcohol or drug abuse. This impacts relationships, affects children and ability to sustain gainful employment (https://pubmed.ncbi.nlm.nih.gov/23022845/).
We are predominantly at a desk; we are more sedentary; we spend hours a day in front of a screen. Our lifestyle has changed, and therefore our lifestyle illnesses have changed too. We are living longer, but often that means we are holding more trauma, or living less-than-healthy lives, being kept alive by medications, and experiencing depression and trauma throughout this extended life span (https://www.ncbi.nlm.nih.gov/pmc/articles/PMC1070773/)

If someone had a broken leg, had the cast on, then went thru rehab and started to learn to walk and run again – would you say they are a "bit broken" ?
Or would you say they are recovering/recovered?

PTSD is not lifelong in ALL cases. It is NOT something to endure and learn to live with in ALL cases.

How does PTSD happen?
Literature shows that PTSD results from an unexpected sudden traumatic stressor. This can be from war (which is what most people think of), but it can also be from a violent assault, accident, or natural disaster.
Childhood trauma often is a result of sexual assault or even the death of a loved one. (https://pubmed.ncbi.nlm.nih.gov/23022845/ )
What I believe is the MOST important part of understanding PTSD is that it is subjective to the person experiencing the trauma. If they believe it is traumatic, then it is.

A traumatic event to one person may not be identified as being traumatic to another person. Therefore, it is important to understand that if you are comparing how you feel to what others have endured, you may be traumatising yourself even further. Conversely if you are a professional who works with people living with PTSD it is important to remember that you are working with perception and not with what you consider to be "real" (https://doi.org/10.3389/fpsyt.2021.607612)

In the burgeoning area of PTSD after narcissistic abuse, we see people who have never been in a warzone, never experienced a vicious assault. Still, they may have a history of people-pleasing and "over-giving".
Being in an unhealthy or toxic relationship absolutely causes trauma within the individual. The fallout after the relationship ends can endure for years – particularly if there are children involved.

With the stakes being so high, there is never a better time than right now to get help for PTSD symptoms no matter how minor or insignificant they may seem to you, or the people around you.