Pregnancy and Depression
There is hope. You can feel better.
Spotlight on DEPRESSION in PREGNANCY and POSTPARTUM:


Pregnancy is a really special time and one that can brig such joy. BUT let's be real – in this covid world, pregnancy can be tinged with fear. And fear can lead to feelings of depression. You might have an unwanted pregnancy; be in an abusive relationship; or be feeling unwell.
There are so many reasons why depression comes knocking, but there isnt a lot of help out there, and many women feel ashamed that they are feeling the way they do.

Belle is an expert in working with pregnant women, helping them feel safe, calm and in control. And she can support you if you are experiencing depression – no matter the cause.
Belle explains:
"Research by my hero Dr Tiffany Field (Uof Miami) has shown that massage therapy is superior to muscle relaxation or mindfulness in its effect on bringing down levels of cortisol (stress hormone) in women who have 4mths of pregnancy massage. "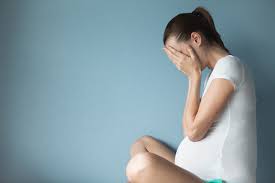 POSTPARTUM:
As many as 30% of women experience postnatal depression in the first 3mths following childbirth. In another study by Dr Field, it was shown that mums experienced LESS anxiety after a 5-week period of massage therapy each week of only 30mins.

What about the babies?
The babies were found to have HIGHER birth weight and a lower chance of premature birth AND lower cortisol levels, too after having experienced massage whilst in utero!


How can Belle help you?
When Belle works with you during a Pregnancy massage / healing session, she brings her expert care and experience into the room. BOTH you and bub are catered to, and BOTH will experience the benefits of a 60min treatment. In the study mentioned above, the participants experienced EITHER massage, OR muscle relaxation processes, OR mindfulness practice…..in YOUR session with BELLE you will receive ALL 3 practices…..triple the benefits!
---

If you are anxious, depressed or just a little nervous, Belle's healing hands and comforting approach to healing can help you to feel better. Give her a call today and begin your process of healing.
---
Reference: