Yoga in the massage room?
Q: Why are Belle's healing sessions achieving more results in a MUCH shorter period of time (for people with anxiety, depression, chronic pain, PTSD, sleep issues) as compared to traditional psychology?

A: The answer is simple – Belle uses an integrated bodywork approach for helping people release physical and emotional pain.
Massage as a stand-alone treatment will only get you so far.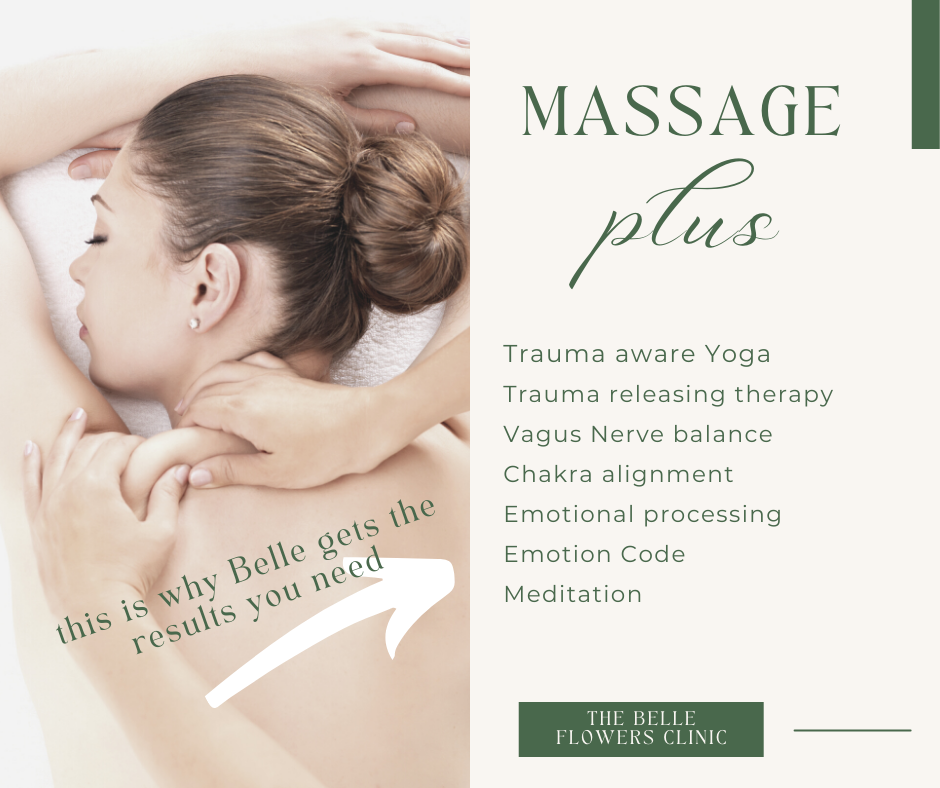 The difference between seeing Belle or seeing your psychologist every fortnight is that treatments with Belle actually change the energy system of your body. You don't "just" talk about things. You actually shift the energy of what you are talking about through your body in a powerful way.
Embodied healing is the only way to truly release the trauma you have been holding. Talking therapy IS important, but it is the FIRST step in a process of recovery.
You won't have to keep coming for sessions month after month, year after year….because you will actually HEAL and RELEASE the issues you are having. Many of her long time clients only see her twice a year for "top-ups" or to deal with a pressing issue that has arisen. She does not teach you to rely on her, rather she will teach you how to notice how your thought patterns relate to your physical issues (and more importantly what to do about it!)
She will help move the stuck energy thru your body, so the pain can release. A session with Belle will help you understand why you feel how you do, and more importantly how to feel better.
Bodywork + counselling + spiritual healing = FEELING BETTER.
Book an Intuitive Healing Massage today…..
No two sessions are ever alike. Here is what some of her clients have to say:
Shannon – "I never know what we will do and I never know how to explain what you do, but I always feel better"


Caine – "I was nervous because I have never seen someone who isnt a psychologist, but I always feel better after an appointment with you"

Keeley – "I just feel lighter and more in my body again"